Collaboration Dolls
Click on the doll for base credit, click on the thumbnail for the whole collaboration.

Halloween Extravaganza '07





Rit, Toodles, Tashi, Me, and Pancake.
Mad Tea Party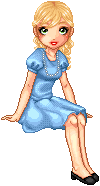 Ebil, Madness, and Me.
Fruit Festival

Me, Tashi, and Noodlebug.

Halloween Ball 2006

Me and Emi.

Pool Party


Kayla and Me.